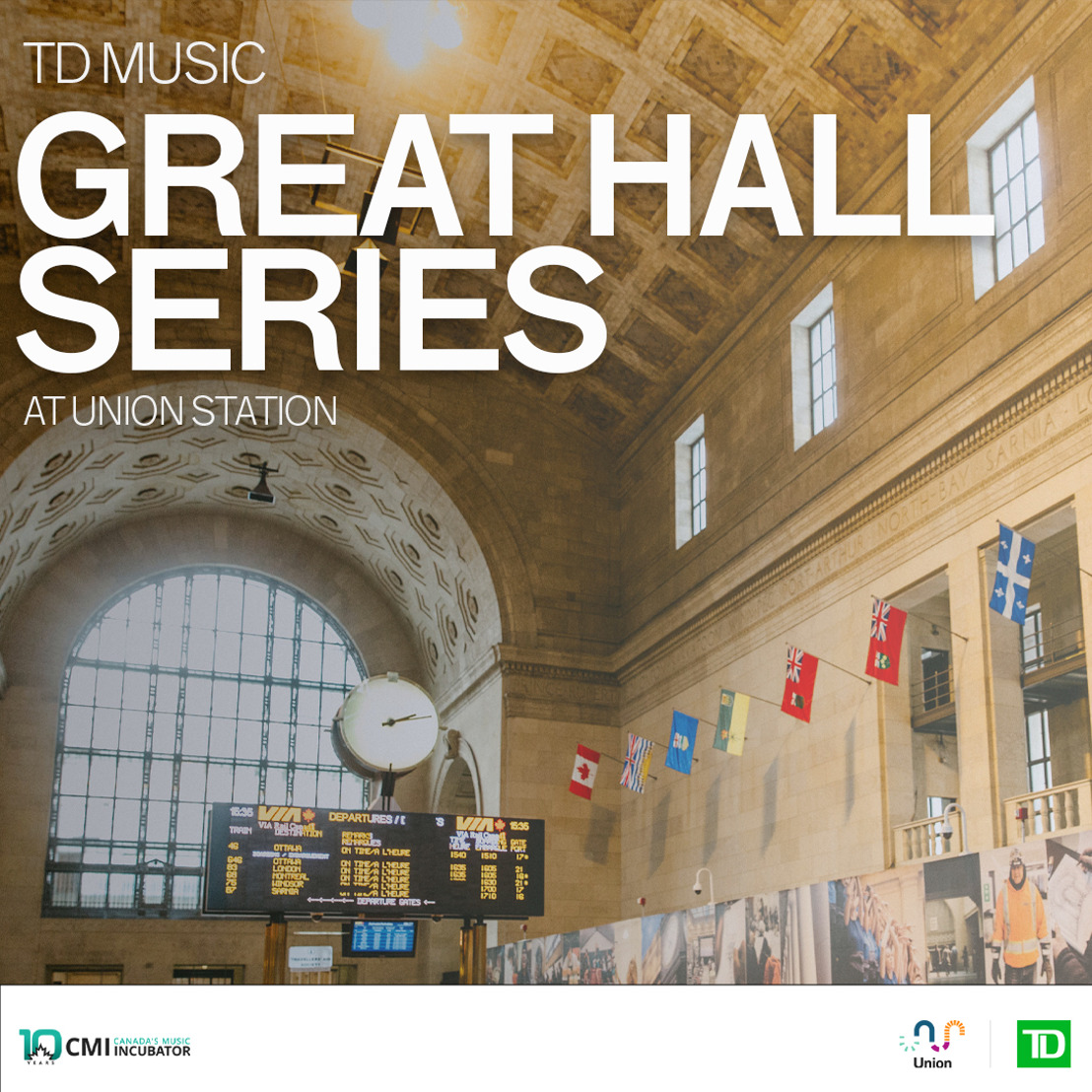 TD Music Great Hall Series Launches At Union Station
TD, Union Station and Canada's Music Incubator To Showcase Toronto's Musical and Cultural Diversity With A Streamed Performance Series
Tuesday, September 14, 2021 — Toronto, ON - The new TD Music Great Hall Series features streamed musical performances from Toronto and the GTA's top artists recorded in the newly restored, architecturally stunning Great Hall at Union Station. The weekly, 25-minute performances will air every Friday at 6pm on Canada's Music Incubator (CMI) and Union Station's social platforms, and TDMusic.com starting October 1 through to December 3, 2021.
Ten artist performances have been curated by CMI. The series will be filmed over-night at Union Station from 11pm-5am in order to avoid any commuter disruption. Every performance can be streamed on the TD Music Great Hall Series' YouTube channel, TDMusic.com, and Union Station and CMI's Facebook, Instagram and YouTube platforms: @torontounion and @cmincubator.
"TD understands the vital role artists and musicians play in shaping communities and sharing perspectives we don't often hear. Supporting the TD Music Great Hall Series, will help by providing platforms to amplify diverse voices in arts and culture, and support artists that have been adversely affected by the pandemic as we eagerly wait for the safe return of live music," says Michael Armstrong, Vice President, Brand & Corporate Sponsorships, TD Bank Group.
"Union is proud of the work we do with CMI to support local and international artists and provide accessible arts programming to the public. CMI is a valued and longstanding partner of Union, and have worked with us to curate Union Beats, Union Summer and now the TD Music Great Hall Series," says Syma Shah, Executive Director of Programming & Special Events, Union Station. "This is the first program of its kind at Union. We love the rich history and architecture of the Great Hall, which creates the perfect background for artists to unlock their creativity and perform. We look forward to bringing this program to life at Union and sharing it with the community."
"With the gradual return of live music, we want the TD Music Great Hall series to whet the appetites of music lovers by reminding them about the amazing and diverse talent we have in the region using a gorgeous, non-traditional performance space. We hope it encourages everyone to return to live music venues around Toronto and the GTA as they safely re-open," says Jesse Mitchell, CMI's Director, Live Events.
About Union Station
Union works with arts & cultural partners and curators to enliven the station's common spaces through unique artistic experiences. As a transportation hub with over 300,000 people walking through our doors daily, we strive to create connectedness amongst communities, support innovation and collaborate with artists and cultural organizations throughout the GTA. Our valued partnership with CMI and TD helps us curate and showcase the many different forms of music at the station. For more information, please visit: torontounion.ca.
About Canada's Music Incubator
Canada's Music Incubator (CMI) is a Toronto-based national not-for-profit organization specializing in professional development, ongoing mentorship and live events for artists, managers, and music companies. Launched in 2012, CMI supports 1,000+ emerging music entrepreneurs, of all genres, in the development of long-term careers and sustainable businesses. CMI has provided 10,000+ hours of professional development programs and one-on-one mentorship combined. CMI's Live Events department works with private and community partners across the country curating paid performance opportunities for artists. To date, CMI has programmed 500+ shows and paid over $1 million directly to artists. CMI also advocates on behalf of music sector infrastructure development and creative entrepreneurship education in high schools. For more information, please visit: canadasmusicincubator.com.
About TD Bank Group
The Toronto-Dominion Bank and its subsidiaries are collectively known as TD Bank Group ("TD" or the "Bank"). TD is the sixth largest bank in North America by branches and serves over 26 million customers in three key businesses operating in a number of locations in financial centres around the globe: Canadian Retail, including TD Canada Trust, TD Auto Finance Canada, TD Wealth (Canada), TD Direct Investing, and TD Insurance; U.S. Retail, including TD Bank, America's Most Convenient Bank®, TD Auto Finance U.S., TD Wealth (U.S.), and an investment in TD Ameritrade; and Wholesale Banking, including TD Securities. TD also ranks among the world's leading online financial services firms, with more than 14 million active online and mobile customers. TD had CDN$1.7 trillion in assets on July 31, 2020. The Toronto-Dominion Bank trades under the symbol "TD" on the Toronto and New York Stock Exchanges. For more information, please visit: td.com.
Jamie Crawford Public Relations And Promotions, Strut Entertainment
Samantha Pickard President, Strut Entertainment